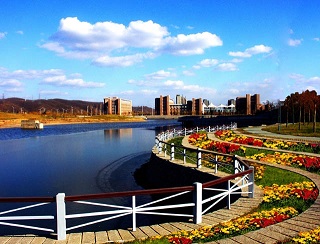 Location: Fushun, Liaoning Province
Introduction:
Originally founded in Dalian in 1950 as the first petroleum school of China, this university is located in Fushun of Northwest China(ten-minute driving from Shenyang, the capital of Liaoning Province). Overlooking the scenic banks of Hunhe River, it enjoys a beautiful campus environment.
This university started its enrollment of overseas students from 1985. It is ideal platform for those who study Han-culture, science, engineering and arts and also a significant stage for mutual communication between Chinese and international students. The International Education College has recruited almost 3,500 students from 76 countries such as USA, Canada, South Korea, Russia, Mongolia, Pakistan, Tanzania, Sudan, Saudi Arabia and so forth, with its development from primarily language training programs to the integrated undergraduate programs with language training. This university has been active in the promotion of academic exchange and educational cooperation. Since the university was founded, it has established long-term partnership with 42 universities and research institutes from more than 60 countries.
This university welcomes international students from all over the world and will provide the best possible programs and services to make their dreams come true.
UNDERGRADUATE PROGRAMS: 4 years
Petroleum and Gas Engineering; Chemical Engineering and Technology; Electrical Engineering and Automation; Civil Engineering; Mining Engineering; Mechanical Design, Manufacturing and Automation; Computer Science and Technology; Business Administration; International Economics and Trade; Petroleum and Gas; Storage and Transportation Engineering; Marketing; Teaching Chinese to Speakers of Other Languages
POSTGRADUATE PROGRAMS: 3 years
Oil and Gas Well Engineering; Chemical Engineering; Petroleum and Gas Storage and Transportation Engineering; Enterprise Management; Oil and Gas Field Development Project; MBA(2.5 years)
PRE-UNIVERSITY FOUNDATION PROGRAM: 1 year
Foundation
CHINESE LANGUAGE TRAINING PROGRAM: 0.5/1 year
Chinese
Fees: RMB/year
Learning Program

Undergraduate

(in English)

Undergraduate

(in Chinese)

Chinese

Foundation

Master

Degree (except MBA)

MBA

(2.5years)

Tuition

16,000

14,500

12,000

15,000

19,000

22,000

22,000

16,000

Dormitory

4200/4500/4900/5000/5500year(double room)

6000/6500/7000/8000/9000/10000year(single room)

Application Fee

800
Application Materials:
1. ID photos
2. Passport front page and signature page
3. Highest diploma and transcript
4. Language proficiency certificate
5. Study plan(postgraduate students only)
6. Two academic reference letters (by professors/associate professors, postgraduate students only)
7. Non-criminal record
8. Foreigner physical examination record
9. Application form
If you want to study in China, please contact Stella for more details:

Stella
www.cuecc.com
Tel: +86 17767072959
Wechat: StudyInChina1
QQ: 2853662501
What's App: +86 17767072959
Skype: study-in-china.org
Facebook/Instagram: Stella Cuecc
E-mail: eduunion@cuecc.com